Friday, May 30th, 2008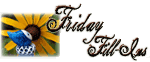 Visit Friday Fill In's blog to play along!
1. For me duplication is the opposite of creativity.
2. Home to Holly Springs was the last excellent book I read.
3. I like fill-ins because they are quick & easy.
4. In nature I like looking at flowers.
5. None of the top runners should win the US elections.
6. The last time I laughed with all my belly was when matt first got on the wii fit.
7. And as for the weekend, tonight I'm looking forward to going birthday shopping with Matt, tomorrow my plans include a trip to the mall and Sunday, I want to nap after church!