Monday, September 1st, 2008
I'm so thankful this Monday morning that Gustav is appearing to be less of a storm than originally predicted.  I realize it is still flexing it's muscles down there, but just happy it's not so bad… My prayers have been with those who have had to evacuate their homes and those who are in the path of the storm.  Living in Oklahoma means being no stranger to being in the path of storms.  The good news is that Tornados or severe weather seem to come and go relatively fast, the bad news is sometimes the results can be catastrophic.  I told Matt yesterday that if I was a native of New Orleans and had to vacate again to come back and realize I had lost everything. Again.  I would seriously consider relocating.  But, when interviewed I noticed most of the people planned to come back and do what they have to do.
Happy Labor Day.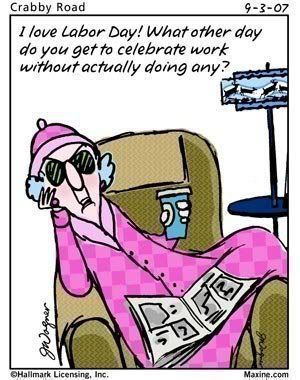 Labour Day is an annual holiday celebrated all over the world that resulted from efforts of the labour unioneconomic and social achievements of workers. The majority of countries celebrate Labour Day on May 1, and it is popularly known as May Day and International Workers' Day. movement, to celebrate the

Labour Day Parade in Toronto in the early 1900s

The celebration of Labour Day has its origins in the eight hour day movement, which advocated eight hours for work, eight hours for recreation, and eight hours for rest.
We're having a family cook-out down at mom & dad's house tonight.  I think everyone will be there…  I have my food assignment and have already purchased it so I'm ready.  Today we are cleaning house!  I have given the kids a noon deadline to have their rooms clean and don't tell them but have more jobs lined up when the finish!  I didn't really clean much all weekend except for picking up, laundry and kitchen… so it all needs a touch.
Some of you asked if Matt had been to the dr. for his neck.  Yes, we went to the urgent care facility on Saturday night.  It seems to be smaller this morning and I'm hoping it's gone by tomorrow when they call for the referral to the surgeon for cat scan and biopsy.  I think it is a swollen gland.  period.  But the doctor acted pretty concerned.
Bailey's poison ivy is a little better today.  He started on a dose pack yesterday.  Poor guy.  There are some areas that poison ivy just shouldn't go.  really.
Tonight is the cookout… so it'll be burgers/dogs/grilled corn/chili/and sundaes for dessert.
Tuesday I'm cooking a pot of black beans and will serve them over rice with lots of salsa!
Wednesday we'll have grilled brats with leftover beans on the side.  (I'll use the beans to make a batch of black bean burritoes to freeze.)
Thursday I plan to marinate some chicken for me and the kids and grill it with matt's salmon… some spinach salad and veggies on the side.
Friday we'll most likely get pizza carryout… I can plan something for Friday but we usually end up getting pizza…
Have a great Monday!