Another scorching hot day!!! Good news is some predicted rain in our near future with highs only in the 90s. Not too bad. We've been dealing with car drama. Amanda drives a honda CRV and it has been overheating. The radiator cap broke. It was replaced. We thought it was fixed. It wasn't. It was still leaking fluid and getting hot, which in this heat isn't surprising. After many replaced hoses etc. and trips to the honda parts store it was discovered that there was a small hole in the radiator that had been "patched" with silicone… yep! silicone… So, it's been repaired and hopefully we won't have any issues for a while. The AC had to be replaced last month.
We're getting ready for the 2008-2009 school year. School supplies are purchased, and ready for back to school night. I need to take Amanda to buy books for her college courses. Bailey's schedule pick up is Thursday. I think we're pretty much ready. I almost dread the end of Summer. For a few reasons. I enjoy having the kids around. They are fun and funny… and Summer is just a more relaxed time. Another reason is that there is a little more freedom. With three kids here if I need to run to the store I can. It makes life a little simpler.
I had lunch with Melody Tuesday after Bailey's ortho appointment. We were in the city, close to the state capital where she works so we just went ahead and met her. Bailey wasn't thrilled to hear us talk about Shark sweepers and recipes… but he was a good sport. We went to Ted's which is always delicious! I brought half of my lunch home. Hello breakfast! LOL.
Matt and I ran to Lowe's last night and bought supplies to make a clothesline. He is going green on me :)… I think I'll enjoy it, especially for the mountains of towels (from all the swimmers) and for bedding. He has agreed to help with this so I'm willing to try it. I'm not very green… I do use those black bags at walmart… that's something I guess.
I'm hoping to clean out my closet today. A friend's husband is in charge of a military garage sale for a good cause so I'm going to purge, purge, purge!
Annie and Sandra asked for my potato salad recipe. I don't use a recipe, but here's how I make it… It's not diet guys. At all! But it's so good.
1 five lb. of yukon gold potatoes.
kraft real mayonnaise
dill pickles chopped
4-6 eggs, hard boiled and chopped with about 3/4 of yolks removed.
a little of the pickle juice
some dill weed (probably a tablespoon)
mustard
salt
pepper
butter
I cube and boil the potatoes until tender. Drain them and put some butter and salt over them. I add the chopped pickles and green onions, the eggs and pickle juice (just a dash), the dill weed and stir in enough mayo to coat and cover the whole mess… then I squirt in about a tablespoonish of mustard for flavor and stir again. Refrigerate and eat it … for days and days.
The girls have been wanting this every meal. It's so good. I hope I didn't forget anything like those ladies who have a special recipe and never give you all the ingredients and it's never quite as good. If I remember anything else I promise to update :)…
One last thing…
Happy Birthday Marcia!!!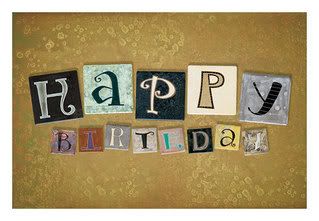 If I were in South Africa we'd probably do lunch or something! 🙂
Have a great day.