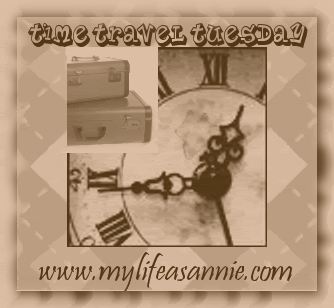 It's that time of year… graduation! Which made this week's time travel theme very easy to decide. So, what do you remember about graduating from high school? Was there anything special about the actual ceremony you remember? What did you do after graduation?
I remember bits and pieces from my graduation night. I remember wearing a light turquoise strapless dress that my mom made for me (under the cap & gown). I remember walking across the stage and waiting in a big room to line up. Our graduation was at the Myriad Convention Center. I remember my bff Darla finding me and crying. I remember taking a picture with my twin friends (Shelli & Kelli), they are under 5′ tall and I was towering between the two of them. The picture below is shortly after my graduation. I was dating Matt at the time. My graduation was a bit of a blur, and then we came home to have a party with family and friends.
.
This picture is one of my senior pictures. Check out the 80's hair! Yikes!
Next year I will watch my baby daughter walk across that stage! Amazing. Where does time go?