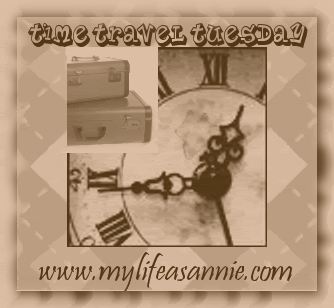 So, I was thinking about not doing a time travel this week… because I hadn't really thought about it and I don't have any thoughts right now. BUT, the first thing that popped in my head is funny cooking mishaps. I don't have many of those these days, but in the beginning there were some laughs.
How about you? Did you have any crazy cooking mishaps when you were learning to cook? Can you remember the first meal you attempted to make? Was it a success or a joke? Link up and share your story as you travel back to your cooking mishap.
The funniest cooking mishap that I can remember happened before Matt and I were married. He was at my parents house and I decided to make gravy. I don't think I had ever made gravy before. I knew the ingredients from watching mom make it, but not the amounts. So, I'm feeling pretty confident as I add my flour to the pan and then some milk… until I pour it into a bowl. It came out like a jello mold. In one piece. We both got a good laugh out of that gravy and I'm happy to report I can now make gravy! One of my oldest friends, Mendy, has had the best cooking mishaps of anyone I can think of. She doesn't blog, and really doesn't even visit blogs… but she is hilarious and her mistakes were always the hit of the party. She asked for my lemon chicken recipe to make her family when she was still living at home. The key to that recipe is the touch of brown sugar at the end to cut the sour lemon juice. Of course Mendy forgot the brown sugar and her family puckered as they tried to eat the meal. Mendy made fudge for a get together we had and we all enjoyed eating it, with a spoon!