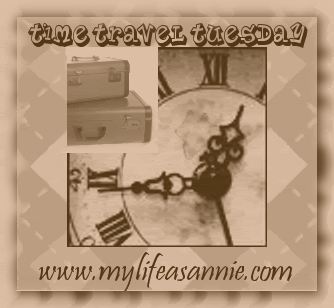 A couple of weeks ago I actually forgot to do a time travel for Tuesday… I mentioned that I would be open to suggestions…
So, today we are going to take one of those suggestions.
Jenny said,
" A smell that brings you back? (I know that when I put on Jergens' lotion I am brought back to a little girl watching my mom put lotion on her hands)"
Thanks for the suggestion Jenny!
So how about it? Any smells that take you back to a different time and place?
My first smell is l'air de temps perfume!

My mother used to wear this all the time before she developed allergies that made her have a headache when she wears any fragrance (or really when anyone around her wears perfume… including me.. who forgets… then she has a headache… oops!) I digress. Anyway, I remember sitting by her and smelling that smell. It's a good memory!

Another smell is Grey Flannel cologne!

(I'm not remembering perfume on purpose, it's just they are easiest to identify. There are the smells you smell walking into school halls that take you back to fifth grade, or the smell of the soap in a bathroom that reminds you of junior high. The smell of chlorine takes me back to childhood vacations and hotels…)

The grey flannel smell memory isn't great.

Matt had a ferret when we were dating and he was living in a dorm room in college.

He would bathe and then spray the grey flannel on this ferret! ICK.

Wet ferret and grey flannel = yuck.
Don't forget to sign mr. linky and share your smell story!